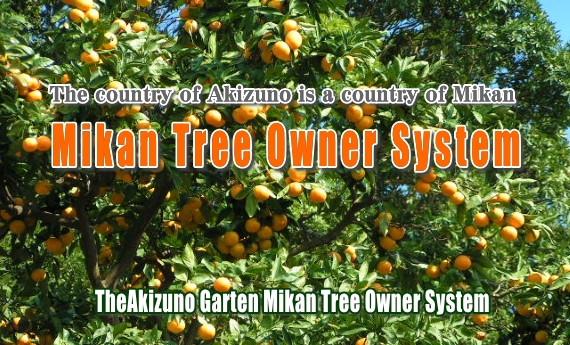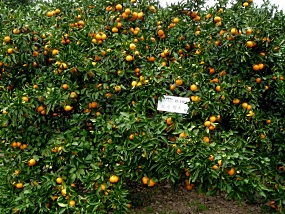 Institution
 Mikan Tree Owner System is that a customer owns a mikan tree, and harvest mikan from the tree he/she owns. It is a year-contract, and the management of the tree such as pruning, manuring, mowing, and thinning is done by the owner of the farm of the tree.
We have stopped accepting 2017 applications of owner trees.
Recruitment Mikan Tree Owner
(Maximum harvest amount: 50 kg)
Application Period
20 mikan trees are ready. (6/25 ~ late September) we will close the deal when we reach the expected number.
Mikan Wase-Unsyu
(Miyagawa-wase) Harvest season at one time in any day of from late November to early December.
Place
A tree owned by a farmer in Kamiakizu
Annual Fee
a tree 31,000yen Payment at the time of contract.
The contract lasts until the time of harvest, and there shall not be midterm cancellation and refund.
Selection
and Management of a Tree After contract, Akizuno Garten stuff will select a tree and put your name plate the tree.
To manage the tree until the time of harvest with responsibility, we will send you a letter and state of the tree time to time. (It is possible to send by e-mail if you want.)
Harvest
Either a tree owner harvest 50 kg of mikan, or a farmer harvest it and send it where the owner want. (Shipping fee is extra.)
Target
A target of a mikan tree owner is an individual or a small group like a family.
Special The time of harvest, there will be 10 % off vouchers for accommodation and farmer's resturant lunch buffet. (needed a notice if you would like to use accommodation and restaurant.)
Other
Secondary lending and sales of owner tree will be prohibited.
How to Apply
Please
print out
the application form and sent or fax it.
We will reply you after examination.
If there are too many applies, we will draw lots.
Application Form(PDF)

●Application is first come, first served.
●After application, we will contact you as selected a mikan tree, and at the same time annual fee is payed, the contract shall be signed.
Mailing Address
〒646-0001 4558-2 Kamiakizu Tanabe, Wakayama
To Akizuno Co., Ltd. Akizuno Garted